Home
The Perfect Lighting for Your Home
Lighting comes in all sorts of shapes and sizes and to really create the perfected ambience in your home, you can look to combining an array of lights around your living space. From chandeliers to wall lights and pendants, you really have a variety of options when it comes to finding the perfect lighting for your space. Give your interior a boost of style with the latest trends that 2021 has to offer.
Combining Styles
There are a lot of dos and don'ts when combining lighting styles around your home and we have you covered.
Don'ts:
Too much can set the wrong tone in your room. Try to stick to 2-3 different combinations, over doing it can give the wrong look.
Don't go too far out of your own personal comfort zone, you want to love the space you're in and sometimes being too adventurous can set you back.
All though it's easy to do this, try not to just go with the look of your lighting. You need to take into consideration the use and the actual light the product emits for your room and your space.
Do's:
Map out your entire room in a floor plan style and visibly draw where you'd like your lighting to be placed and what for exactly. This makes purchasing your lights much easier as you've decided what product you need already.
Look at home inspiration websites and social media accounts before deciding how to mix your styles, it's okay to replicate what somebody else has done if you love it.
Create a focal point in the room in the form of a chandelier or pendant, don't distract from this as it's a beautiful talking point.
Chandeliers
Chandeliers come in so many different forms that the opportunity to express your individual style is endless. Initially, when you say 'Chandelier' it's easy to think of the glitz and the glam. Don't get me wrong, we all love glamour and elegance but a chandelier travels so much further than this. If you want to adopt a grunge, industrial style in your home you can still incorporate this through your lighting. Buster & Punch feature a beautiful, heavy metal chandelier, perfect for the elegant yet industrial look inside the home.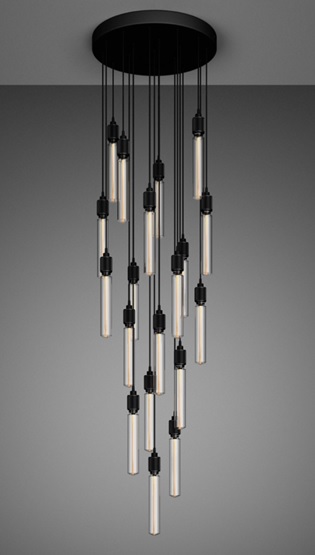 Image Credit: Buster & Punch
Lighting Zones
A beautiful way to light your home is through lighting zones. Making sure every light serves a purpose is the best way to get the most out of your home. Ideally, you want to have a mixture of lighting serving various purposes throughout your space. Firstly, ensure you don't over light the room but encourage lighting to reflect off the walls in your home to bounce light around.
Secondary lighting is the perfect way to set the tone and ambience of the room. This is anything from your floor lamps to your table lamps. They will help set the tone and dress up your room beautifully. If you have a statement chandelier, make sure your secondary lighting isn't too over the top to avoid detracting from the focal point of the room.