Home
The Different Types of Refrigerators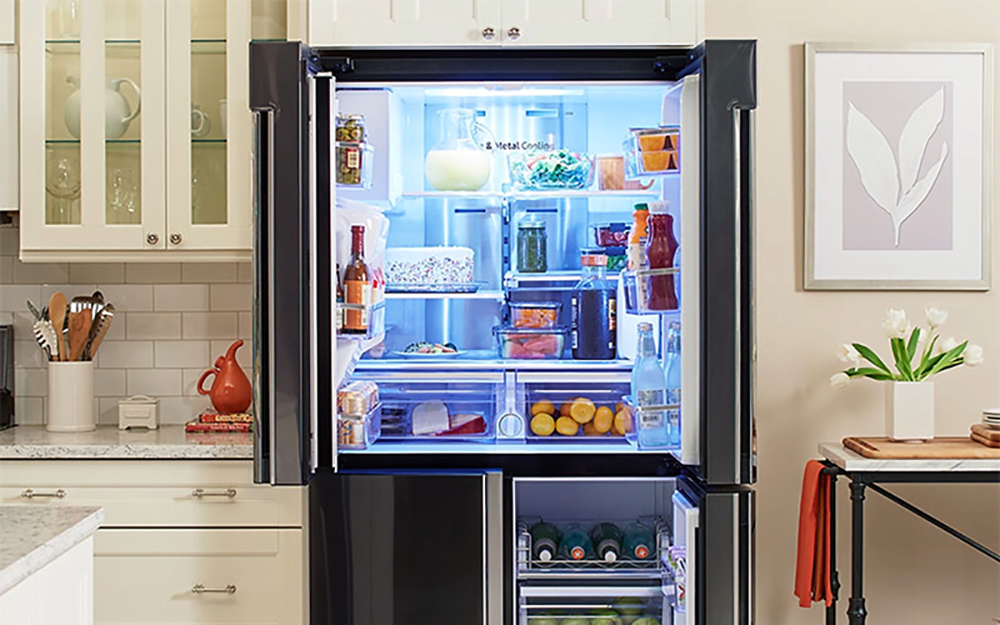 Choosing a refrigerator is a tough choice! There are so many colors and types, so it's hard to choose one that matches your kitchen. Instead, you might want to look at the perfect look from the inside and out, as there are so many refrigerators nowadays to choose from. Find out everything you need to know and more about types of refrigerators to help you while shopping.
French Door Refrigerators
If you're looking for a modern fridge, a French door refrigerator could do the trick. With two doors for a fridge, and either a sliding lower freezer or two French doors, this type of refrigerator minimizes the escape of cool air. Buying a French door refrigerator means two things; more capacity and more features, including:
Adjustable shelves
Exterior ice and water dispensers
What more could you ask for?
Side-by-side Refrigerators
A two-door fridge is a side-by-side refrigerator. It usually consists of a refrigerator on one side and a freezer on the other. It's a vertical freezer with plenty of capacity to place more items in it. However, they're not as energy efficient as other types of refrigerators, but they are affordable.
Features:
Ice-dispenser included in some models
Affordable
More freezer capacity
Vertical freezer to store more items on any level you like
Adjustable shelves
Top-Freezer Refrigerators
A freezer on the top, and a refrigerator on the bottom, is the classic refrigerator. You've probably had one like it when you were a child. After all, it has been there for decades.  It usually opens from one side and has plenty of space to place all your items in it. What makes it so special?
Simple but traditional look
Plenty of refrigerator space
Easily access the freezer
Affordable pricing
The top freezer fridge requires space to open the door compared to other types of refrigerators. However, it's available in plenty of colors and sizes for you to find the perfect one for your kitchen.
Bottom Freezer Refrigerators
The opposite of the top freezer refrigerator, the bottom freezer refrigerator is an extremely popular type. That's because the fridge is on the top, and the freezer is down below. Hence, it provides plenty of storage space for both the refrigerator and the freezer. So, there's no need to think twice when grocery shopping. Here's what you need to know about a bottom freezer refrigerator:
Larger compartments
Accessible
Affordable
Plenty of features
Like the top-freezer refrigerators, they require some space for the doors to open.
Mini Fridge
A mini fridge isn't for everyone. It might be for a dorm room or the upper floor of your house. It's a good option to save space and have a fridge to place all your items in. There are plenty of different mini fridge models that differ in size and configurations depending on what you need.
So, what type of refrigerator will you purchase? And where is it going to be installed? Ask yourself these questions before purchasing your fridge. After all, it's not something that you'll usually change in a few years. It's something that will stay with you for a long time, so make sure it's the perfect one.