Home
Shower Refinishing vs. Shower Surround Panels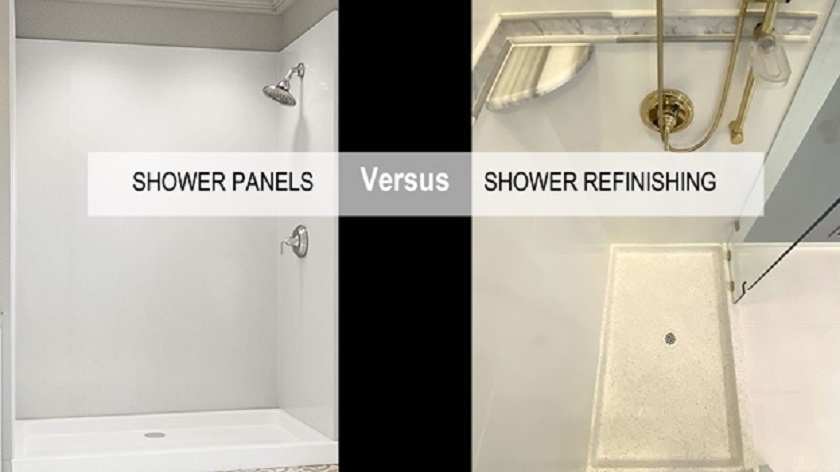 Want a new shower without spending a fortune? There are two budget-friendly alternatives to consider. You could have your existing tile and/or shower refinished, or you could get new shower surround panels. Both of these options are more affordable than replacements, but which option is right for you? Let's take a look at shower refinishing vs. shower surround panels.
What Is Shower Refinishing?
Shower refinishing or shower resurfacing is a process where a strong coating is used to cover the old surface. If you have outdated tiles or a tub/shower pan that has seen better days, refinishing is an affordable alternative to replacement. Instead of buying new fixtures, dealing with demolition, and struggling with the challenges of installation, you can simply have your existing elements resurfaced. During the process, cracks or other elements that detract from the refinished surface are repaired, and then a durable coating is applied that instantly makes your bathroom look like new!
You can choose from solid white refinishing, unlimited colors, or a faux stone texture, like granite. Many homeowners get all-white refinishing for their shower surrounds, shower pans, and/or bathtubs. Others will get a solid color for the tub or shower pan, and then choose a stone finish for the wall tile. Either way, you can get a refreshed bathroom in a matter of hours that costs significantly less than new bathroom fixtures.
What Are Shower Surround Panels?
Shower surround panels are smooth sheets that glue onto the walls around your shower or bathtub. They are usually made of acrylic, and they come in various sizes and styles. Most shower surrounds are white, and some of them have built-in shelves for shampoo bottles. While they appear to be easy to install at first glance, they are deceivingly difficult and best left for professional installation.
Benefits of Shower Refinishing over Shower Surround Panels
There are benefits to both shower refinishing and installing shower surround panels, but refinishing offers much better results in the long run. Here's why…
Shower refinishing requires no demolition or tricky installation. With a shower surround, you may have to remove your existing tiles before putting the panels up. If not, you must make sure the panels are designed to go over tile (many of them are not). With refinishing, there is no demolition. We repair damaged tiles, lightly sand the surface, and reglaze everything in one shot. The application happens within hours, and you can start using your shower within a day or two.
Shower refinishing costs less than shower panels. The price for shower and/or tile refinishing depends on the amount of surface area that needs to be covered, but overall, it is a fraction of the cost of new tile. Even though shower panels are more affordable than tile, they still tend to cost more than refinishing – especially if you need professional installation.
With shower refinishing, you can get the same look for all surfaces in your bathroom. If you want your countertops and tile to match, you can get a faux stone finish for both. We can still refinish your tub or shower panel in white to match your toilet and sink. The entire bathroom will look beautifully cohesive. With shower panels, the only 'matching' you'll get is the fact that the panels are white like the tub.
Shower panels are one-size fits all. Shower refinishing is customized for your bathroom. Whether you have an older home or a newer one, your bathroom is completely unique. A cookie-cutter shower surround probably isn't going to fit your bathtub perfectly. This is why installation is so difficult, because you're working with a surface that probably isn't perfectly square. That's not a concerned for refinishing. The process is customized for your home's unique needs.
Both options are easy to clean. Shower refinishing eliminates grout lines. The new coating goes over the tile and the grout, so you never have to worry about those ugly mildew lines that form over time. Shower surrounds are also easy to clean because they have a smooth, flat surface. If you want low maintenance, you can't go wrong with either one.
Shower surrounds can look 'cheap.' Unfortunately, shower surrounds tend to look (and feel) cheap. Even the most decorative ones available still look like plastic on the walls. With tile refinishing, you get the look of professionally installed tile without actually replacing your tile. It's the best of both worlds!