Home
Improve your Home with Simple Kitchen Upgrade Ideas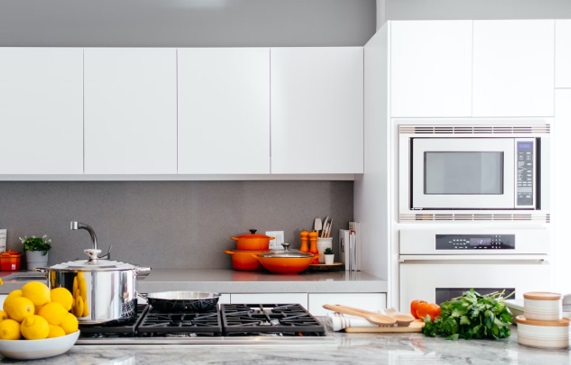 Purchasing or renting your own home is kind of a big deal. After years of living under the wing of your guardian there is nothing that screams freedom more than customising your house/apartment in your own image. I get it, altering your quarters isn't always the cheapest thing to do and after the two main objectives of living and bedroom, the kitchen doesn't always get the love it deserves. Wouldn't it be great if there were options that aren't as pricey as you think?! From decorating to random kitchen sink accessories, below we have included some flawless ways to upgrade your kitchen with simple but effective tips.
Adding Personal and Effective Changes
As we touched on briefly before, you want your home to look how you want it to look. Everyone's styles and characteristics are different and this can reflect in your kitchen as well as the rest of your home. The best and most cost effective way of doing this is purchasing products you like that you can easily install yourself. So many of the items/accessories you use in your kitchen are ultimately customizable. Have you ever thought about replacing your kitchen taps? How about kitchen dresser handles? This is so easy and cost effective to do and it will give you the look you are looking for. Retro, modern or contemporary, your kitchen is your blank canvas and with simple changes you can make it quirky whilst remaining in your budget.
Decorating
Yes, it seems fairly obvious that decorating is something you do when you want to upgrade your home but yet again when it comes to it, the kitchen usually remains in a bland unimaginative color. So many kitchens look like they have come straight from stock images and changing your color scheme will freshen up the vibe. Even if you don't want to change the color of your walls, you can colorize kitchen cabinets, old chairs and even your trusty old dinner table. Add into the equation replacing your floors and accessories and it will look like you have a complete new kitchen, without paying the full price for one.
Upgrading Functionality
Cosmetic alterations are always pleasing to the eye but they rarely help to upgrade or improve the functionality of your kitchen space. For example it is rarely thought about but you may want to consider improving and utilizing the lighting. Not only can this help with energy bills but you adjust the brightness of your lights to the function that they are actually used for. Brighter lights over cooking/prep stations and dimmer more ambient under cabinet lights for the evening. Your options are endless but it is so important to remember upgrading doesn't always mean what catches your eye.
What accessories do you actually use? Do you kitchen taps cause you issues? Don't make your kitchen life tougher than it needs to be. Improve its functionality, improve its look and you will have a kitchen you have always dreamed of.