Home
How Can I Tell If My Basement Floor Is Leaking?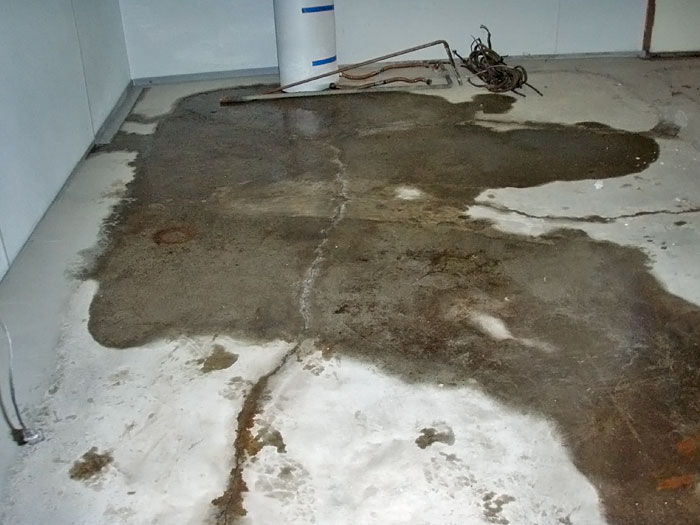 A common problem that homeowners face is a leaking basement floor. This is a worrisome situation that can happen due to numerous reasons. Our basement waterproofing experts say that you shouldn't ignore the main signs there is a problem in your basement. For example, a burst pipe or a serious plumbing problem might be the obvious culprit. But sometimes, it can be worse. It is best to request professional help for basement waterproofing and avoid DIY repairs. If you notice one of the signs listed below, it might be the perfect time to call an expert!
You have water stains on your basement walls. 
If you're wondering how to tell whether a basement floor is leaking, water stains are the answer. Make sure you thoroughly inspect the walls in your basement. If you notice any stains, these might tell you you have a wet and leaky basement. Sometimes this might be the direct result of water seeping in through the joint where your flooring and walls meet.
You notice there is a musty smell in your basement.
Another way to tell if your basement floor is leaking is the smell. If you notice there is an odd smell in your basement, it may happen because there is excessive moisture. A musty smell indicates your flooring collects water, and you might be facing a serious waterproofing issue.
You notice there is concrete spalling.
A common basement flooring problem that makes homeowners request professional help is concrete spalling. This happens when water seeps inside the surface of your flooring. It makes the area peel or pop off, and it can expand to your walls. Keep in mind that spalling can significantly diminish the integrity of your home's structure.
You feel like you can never get rid of mold and mildew.
Mold and mildew can happen in any corner of your home. But experts say it is more common in your basement. Dampness and moisture can significantly increase the chances of mold and mildew growth. When your basement floor is leaking, you will notice there is an increase in mold growth. Find a local basement waterproofing expert to check your home and determine which are the best steps to take.
The Bottom Line
These are some of the best ways to tell whether your basement flooring is leaking. Of course, there are many other indicators there is a problem in your basement. We recommend you ask for a professional inspection of your home. Basement flooring problems can lead to hazardous situations if you don't fix them!