Home
Here Are 10 of the Best Lights for Your Home Pool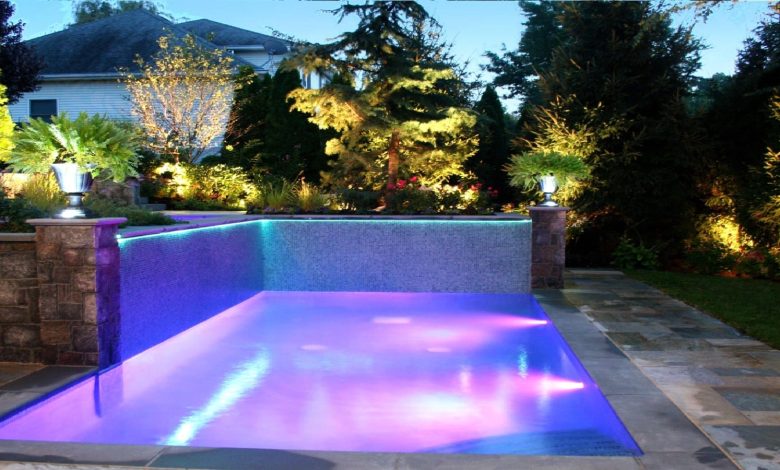 There is no dearth of choices when it comes to lighting up your pool. The decision generally centers on the purpose you need the light. While some people might need lights for more practical purposes like preventing people from accidentally stepping into the pool at night, others might just use them for aesthetic purposes.
Pool lights can be useful in a variety of ways-
Extend swimming time: Having a pool light can extend your swimming time into the day as you would not have to depend on daylight to swim. Pool lights give enough luminescence even in low light so you can see the water and surrounding areas more clearly.
Prevents accidents: Pool lights help in preventing people from slipping into the pool and any other kind of accidents.
Highlights pool features: Some lights are great for highlighting the features of the pool like waterfalls, fountains, and even the stairs.
Landscape lighting: You can also add lights to the landscape surrounding the pool. This would be great for enhancing the aesthetic appeal of the pool area and also make it safe for getting into.
In order to simplify your choice, here is a list of 10 of the best lights for your pool.
Happox LED Light for In-ground Pools
Happox LED lights are great for replacing the old incandescent lights in in-ground pools. They are significantly more cost-efficient than incandescent lights, as they are rated at 50 watts while the latter are rated between 300 to 800 watts. With Happox LED lights, you will be able to achieve the same amount of brightness with approximately 80 percent less electricity consumption. They have a greater lifespan of around 50,000 hours. They are quite easy to screw in and slot easily into pool housings like Pentair and Hayward. They come in various configurations with a 100 percent satisfaction guarantee.
Loftek Floating Pool Lights
The Loftek LED pool lights are great for creating a beautiful aesthetic for your pool. The LED lights are in the form of 16-inch globes which can float in the pool because they are completely waterproof. They come in a variety of 7 sizes, which range from 3 to 24 inches. You can choose the size depending on the dimensions of your pool. They can be used inside the home as well for decoration purposes. The outer shells of the lights are made from toy-grade polyurethane. Besides being waterproof, the balls are also dustproof. They come with remote control operation for adjusting the brightness levels and lighting modes.
Life-Bulb LED Pool Lights
The Life-Bulb Pool Lights are energy-efficient LED lights that can be a great addition to your pool. They can be operated with a switch control as well as a remote. The Life-Bulb Pool Lights offer the same amount of brightness as an incandescent bulb, but with less energy consumption. They come in a variety of configurations and colors. The color modes in the light are 16 in number, which consist of 7 fixed ones and 9 light modes. Besides the standard blue, green and red lighting, the Life Bulb Pool lights also come with yellow, cyan, purple, and white.
Intex LED Pool Lights
The unique feature of the Intex LED pool lights is the magnetic mounting technology it comes with. With this unique mounting system, you can easily install the lights without any professional help. They are designed for above-ground PVC pools with soft sides. There is also an in-ground pool light option. There is no hassle of replacing batteries with an Intex pool light as it comes with an outlet pool connection that is 26 feet in length. While the outside pool lights come in white, the inside pool lights come in a variation of white and other colors.
Loguide LED Floating Pool Lights
The Loguide LED floating lights are great for adding a splash of whimsy to the pool. These are not regular globe-shaped lights, as they feature a great variety of designs, from a dragonfly to a frog or a butterfly. The lights are designed to float in the pool on a lotus leaf design. The waterproof battery box provides a battery backup of 100 hours when used continuously. They come in a wide variety of colors like white, yellow, cyan, yellow, purple, and many others. Besides using them as floating lights, you can also use them as feature lights for fountains or ponds.
SR Smith Pool Lights
The SR Smith pool lights are the best option if you want a light that delivers quality along with performance. These lights are designed to last for more than 50,000 hours of continuous use. There are a variety of sizes when it comes to cord lengths, from 50 to 150 feet. They come in 6 color options, and are great for fiberglass, vinyl, and gunite pools.
Zuckeo Landscape Lights
The Zuckeo Lights are LED lights that can be used to illuminate any landscape. The Zuckeo lights are a set of 8 spotlights that can be placed in the pool area to create a sense of warmth and relaxed atmosphere, along with safety. The lights have been given a waterproof rating of IP65. Besides, they are resistant to both frost and heat. They are built to last for more than 20,000 hours.
Flashing Blinky Pool Lights
These LED pool lights are in the form of globes which are roughly 3 inches in diameter. Each set comes with around a dozen pool lights that can stay afloat in the pool. There are around 7 different color modes to choose from. You can choose to keep a fixed color or choose a gradual transition of color to create a blinking effect. In addition to using them as floating pool lights, you can also you them as feature lights around the pool and even indoors.
Moonbrook LED Pool Lights
The Moonbrook LED lights feature an art deco design. These lights come with an option of 16 colors, which can be switched with a remote control operation. The brightness level can also be changed with the remote. Each Moonstruck light comes with a set of 10 LED lights, to offer energy-efficient lighting with the same power as traditional incandescent bulbs.
Game LED Color-Changing Pool Lights
The LED pool lights from Game are magnetic wall lights that are designed for above-ground pools. These LED lights come with an option of four color modes and 12 colors, which will allow you to change the ambiance of the pool according to your choice. These lights are completely submersible and waterproof.
Conclusion
The right pool light can elevate your pool to the next level. With the help of this guide, you will be able to choose the best LED light for your pool. You can also contact your melbourne pool builder. Whether you want lighting options for in-ground or above-ground pools, the choices are endless.