Home
Fantastic Poolside Entertaining During the Cooler Months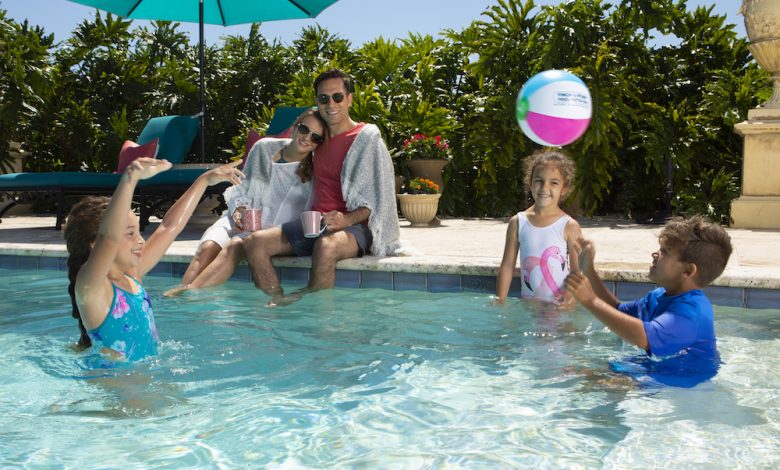 Summer months are all about spending time outdoors and poolside parties. The arrival of winter need not mean an end to poolside parties. You can enjoy your pool area throughout the year with some careful planning. Read on for some great tips to keep the action alive in your poolside during cooler months.
Light a Fire
This goes without saying that lighting a fire will give warmth to your outdoor area. Look around, and you will find many attractive options for lighting a fire. Fire pits are becoming extremely popular with pool owners as they provide warmth and add aesthetics to the pool area. The fire pit can be fixed or portable. You can install fire pits in the seating area or inside the pool. They look great either way. You can also burn herbs like dried mint leaves and lavender leaves in the fire pit. These herbs keep pests away and leave a sweet smell in the air. If space and budget permit, you can have an outdoor fireplace in your backyard.
You can also use an outdoor heater. They may not have the charm of a traditional fireplace, but they work well to keep your outdoor area warm. Portable heaters can warm up your outdoor area quickly. They are inexpensive and efficient. If you intend to carry out outdoor entertaining regularly, you can install wall or ceiling-mounted patio heaters. These heaters are run by gas or electricity. They are safer than traditional fireplaces since they do not involve fire. You do not have to worry about your curtains catching fire or someone getting burnt.
Furniture
Your furniture needs to carry forward the warmth initiated by the fireplace. Sitting on cold stone benches in the winter can be extremely uncomfortable for your guests. Some areas get rain and snow. Your outdoor furniture must be weather resistant. This furniture is usually made of materials like teak, polyresin wicker, and powder-coated steel. They are tough and last longer.
Throw a lot of cushions and blankets on the furniture. But don't leave these cushions and throws outdoors. Pick them up as soon as the party is over. You can bring them out when guests arrive the next time. Cushions and fabric left outside absorb cold and moisture and feel icy cold. Pillows, throws and blankets add warmth to the furniture. Distribute throw blankets to your guests. Use table cloths on the tables. If your house is in a windy area, use table weights liberally to keep things in place. Place plenty of tables so your guests can place their food and drinks on them.
Lighting
Winter nights can be very dark and additional lighting is necessary for safety. You can retain the summer string lights for a festive feel. You can add floodlights, path markers and spotlights for more lighting. You can also invest in floating lights or laser lights. Light candles if possible.
Scented candles will release a scent and make your pool area warm. Tiki torches and fire pots are other options that will give you light and keep the place warm. Make sure that your walkway is well lit so that your guests can easily find their way around your backyard. Place lights around the house to make it look inviting.
Fun and Games
If you have snow in your backyard, then you can enjoy building snowmen. Else you can enjoy outdoor games like beer pong or board games. The kids can enjoy racing homemade boats from one end of the pool to the other. You can invent a fishing game with magnets, fishing poles, and other materials. You can also play games on the outdoor TV or Computer.
Food
The food should be warm to beat the cold outside. Drinks like hot chocolate, flavored coffee, spiced apple cider, and hot toddies are good choices to keep your guests warm. Take the cooking outdoors. You can enjoy your time with guests while the food is being prepared. Preparing food outside can also add to the warmth. Grilling pizzas, burgers or barbecue are great ideas in winter. Roasting hot dogs or marshmallows can be great fun and an excuse for your guests to gather around the fireplace. A hot cocoa bar or a tea bar can be a great innovation for your outdoor party.
Hot Tub
Hot tubs can make you feel warm and relaxed instantly any time of the year. You can enjoy a hot soak with your family or friends. This is the reason for their increasing popularity.
Covered Patio
Patio roofs or enclosures allow you to enjoy more time outdoors. Curtains in the patio will give you privacy and keep the cold away. Heavy curtains can be used in winter to provide more protection from the cold outside. Outdoor screens or enclosures can also protect you from the chilly winds.
Movie Marathon
Enjoying a movie outdoors with family and friends can be a great experience. You can purchase giant inflatable screens specially made for outdoor use. A simple white sheet and projector can provide an old-world movie experience. Arrange some pool floats and lounge chairs for the kids. If you have an outdoor TV, then you can enjoy movies with your family.
Accessories
The damp moist ground can make your guests' feet cold. Throw in some outdoor rugs to avoid this problem. These rugs will add texture and colour to your entertaining area. They will also form a soft layer between your feet and the cold stone patio.
If your house is in an area that gets occasional rain, then you can install a synthetic turf lawn. Artificial grass is another option for a mud-free clean surface.
A plastic Santa Claus on a float or inflatable holiday characters like snowmen and reindeer floating in the pool can add to the fun atmosphere. You can also place a small Christmas tree with weather-resistant ornament in the outdoor area. Play music so that people can get up and dance. Moving around reduces the cold.
Use these tips and sit back and have fun in your pool area!
The Pool Builders Melbourne are specialists in installing quality fibreglass pools for your enjoyment and leisure. Reach out to them today so your next party can be a splash!