Home
Fantastic information on choosing the right mattress for your electric bed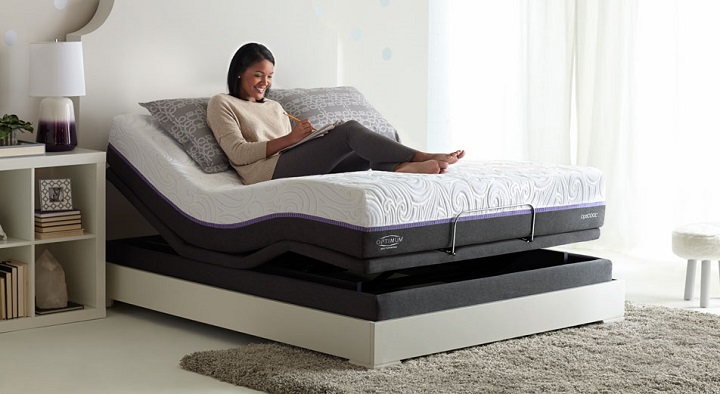 Electric beds can drastically enhance one's well being, especially for those who have trouble sleeping. Just as important as the adjustable frame itself is the mattress you choose. It can be the difference between a good night's rest and the best sleep of your life. In this post, we will share some information on the best mattresses to help you choose the perfect one for your electric bed.
Factors to consider when choosing a mattress for your electric bed
Electric beds are different to traditional beds, and to get the best result its essential that you take into consideration some key factors, such as:
What the mattress is made of
Today, there are almost endless options to choose from when it comes to mattress materials. Here are some good choices for electric beds.
Memory foam mattresses are front runners in terms of compatibility with electric beds. This is primarily due to the fact that they are super flexible and great at supporting the body to relieve pressure. They can adjust with the movements of the electric bed with little to no impact on the integrity of the mattress. Memory foam mattresses are designed to maintain their original shape and structure even with extended use and constant moving. This not only makes them a top choice for electric beds but, the mattress itself can help to alleviate numerous health concerns providing you with the ultimate sleep.
Another fantastic choice for electric beds is latex mattresses. They are very similar to a memory foam mattress in that they offer great flexibility. You'll find that most latex mattresses are made from one of two materials, either natural or synthetic foam. Natural latex mattresses are the eco-friendlier of the two as they are made from the sap of rubber trees. They are more expensive than memory foam mattresses however, they do offer additional advantages such as cooling benefits, and they tend to be more durable. When deciding on a mattress, it's a good idea to weigh up whether the additional cost is worth the potentially longer lifespan and temperature regulation.
Hybrid mattresses are typically constructed using a variety of different materials rather than one like memory foam and latex. They usually feature inner coils as well as memory foam or latex. This mattress type is designed to provide superior comfort while offering similar durability to a memory foam mattress. If you decide that a hybrid mattress is the best choice for you, just ensure that it is specifically designed for electric bed use. If it is not, it's not going to last as long as it should, and you may find your sleep is compromised by the lack of moveability or protruding inner coils.
An innerspring mattress is the original mattress and features steel coils, aka innersprings. Along with coils which can be either pocket or continuous, this mattress is normally made with a variety of foams, paddings, and fibres. While they are reasonably durable, they are nowhere near as long-lasting as a memory foam or latex mattress. Pocket coil mattresses are a more superior choice than continuous coils as they provide a higher level of support and can relieve pressure points better. Again, this type of mattress must be designed for electric bed use otherwise, it is not going to provide the support nor longevity that you need, and you are not going to get the best nights rest that you could if you used a suitable mattress.
The thickness
How thick or thin your mattress is can greatly affect the functionality and the comfort of your bed. A mattress that is too thick isn't going to manoeuvre easily when the electric bed is moving. If the mattress is too thin, you may not get the relief or support you need. It's important to get this right as you need to find the optimal level of flexibility and comfortability. Most choose a mattress that is between 8 to 12 inches thick, and this works well.
Whether you want a singular mattress or a split mattress
There are two types of electric beds, and they are a single electric bed or a split design electric bed. The split electric bed is designed for two sleepers, and each side has a separate control that can be adjusted independently by the user. Spilt electric beds require two mattresses and single electric beds typically have one.
The size
Your mattress size must be suitable for the electric bed that it will rest on. If it is too big, it will hang off the electric frame, and this can be unsafe when sitting on the edge of the bed as there is nothing under it to support it. If it is not big enough, it may slip when it is adjusted.
The perfect mattress is key to a quality sleep
There's no denying that an electric bed can drastically improve your sleep and overall health, but you should take the following things mentioned above into consideration when choosing a mattress type to reap the full benefits they can provide. If you've been considering an electric bed and have decided now is the time to transform your sleep, contact the professionals here at Beds Electric. We have electric beds and mattresses for every sleep need and comfort requirement. Get in touch today to find out more.