Home
5 Ideas for Bold, Modern Interiors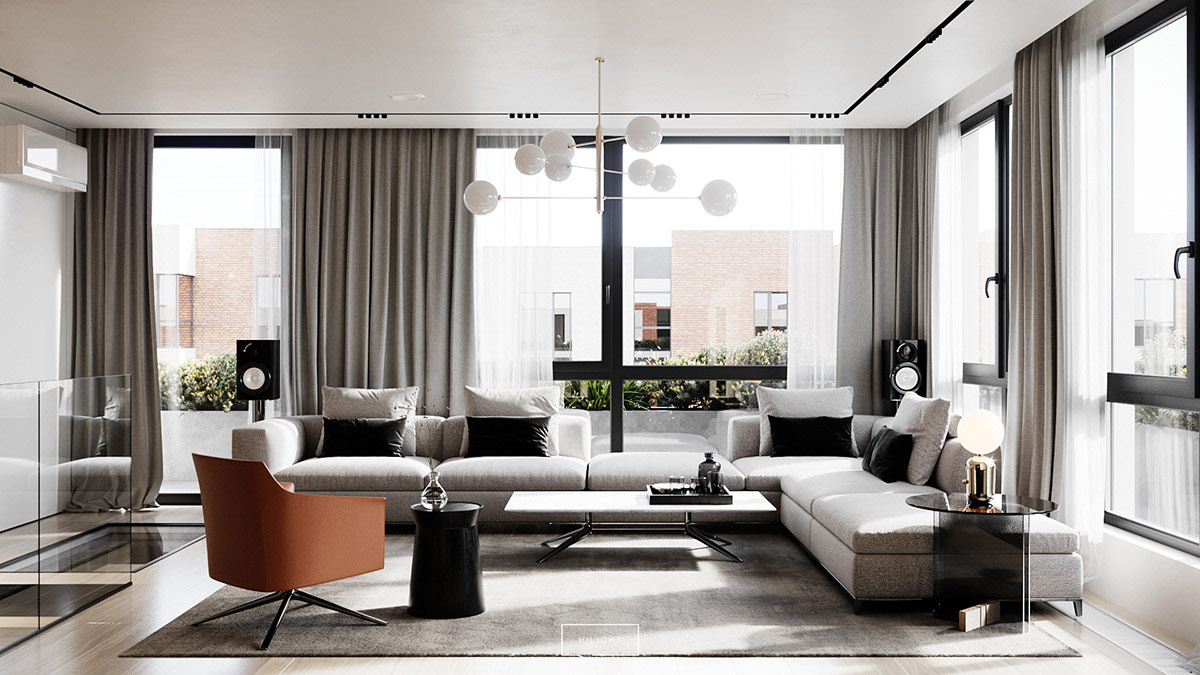 The bold and modern interiors may seem intimidating at first. Who doesn't like clean lines, exotic, bold colours and dark shade furniture? Everyone wants their home to give a positive and new vibe to guests as well as residents there. The modern interiors can create stunning results if used properly.
There are many places people go for modern interiors, such as restaurants, bars and corporate offices. Think of a black couch in your waiting area or the meeting room in your office. You can apply many other designs to the interior to create the bold look you always wanted.
History of modern interiors:
The trend of modern interior design started in the nineteenth century. The architecture took a dramatic turn when bold colours met the contemporary art, and the same is incorporated in every interior design theme across the ideas. The rapidly growing urban areas welcomed fuss-free approaches. The use of new materials reached far and wide with large structures and opened a whole new era in people's lives.
What are modern interiors:
The modern interior design encompasses clean lines, geometric shapes, is more functional and has a perfect shape.
Ideas for bold interiors:
The modernist revival started when people chose bold interiors as the primary choice of decoration in the vicinity. Certain ideas are most common and a must-have as interiors.
lines:
Most modern designs revolve around simple lines. Strong horizontal and vertical lines are the best part of any modern home. You can see that in the construction of columns, walls and even furniture.
Fabrics first:
Many times people tend to buy fabric pieces that are a must-have at any cost. You can use the same curtains or choose a few yards as furniture fabrics or handmade rugs. You can create an entire theme related to colour or multi-shade leftover fabrics. Furthermore, place a black couch against this multi-theme for an inspirational look.
Industrial material:
You cannot achieve a modern look without using industrial materials such as concrete and steel. The entire wall is now made of glass, with every room finishing in iron touches. With that, you can go bolder by having the same category of furniture.
containers:
Currently, many people are shifting towards free living. That is considered modern living. You can have shipping containers as your home and place them anywhere on government land or an area they own. Here, people tend to have solar panels for energy and share organic waste with the wildlife. It is getting quite common in many countries.
Match the style:
It is not necessary to match the fabrics all over the house. Neither shares the same colour theme. You can mix and match fabrics with iron and steel such as chrome to get the modern fireplace. Similarly, you can create dynamic ideas for each room. Make sure you have a fine eye for this. Generate bold ideas for modern bedrooms and dining rooms with matching style and keep a black couch as the centrepiece anywhere you deem perfect.
Declutter:
The bold look is perfect, clean and tidy. Make sure your place is clean, clutter-free, and have simple decorative items with few pieces of furniture. The minimalist mantra is the new norm, so organize more and keep trinkets out of sight and hide the wires of all types behind doors and drapes.
Unusual design:
Sometimes, all it takes is just one eye-catching piece to grab all the attention in the room. Select an unusual piece of hardware such as a floral drapery rod, door handle or cabinet knobs. If you already have such a piece in your home, talk to a professional interior designer and incorporate it in the same room where you are keeping a black couch. It will create an antique look which no one can ignore.
Primary shades:
Usually, people tend to use one colour for the entire house. But the bold trend is to use bright primary shades to highlight the areas you want. Paint the beams, arches, and ceilings with bright shades and match the softer hues for the walls.
If you own any restaurant, keeping a black couch with a primary colour wall will instantly hit.
Floor to ceiling cabinets:
Do select floor to ceiling cabinets. We tend to have modern but small places to live these days, so these types of cabinets will come in handy for storage. These stretch cabinets will give a sophisticated look to the entire facility.
Open floor plan:
Gone are the days when the places used to be attached. Now, there is more need for open spaces; hence, the open floor plan got instantly hit in the modern design. Have an open kitchen that has access to the dining room and the pantry. With that, many one unit families have open bedrooms as well.
Will the bold look continue ahead?
The world is shifting towards modernism at a rapid pace. So it is without a doubt that all these ideas will remain in the future and be altered to the best suits.
Conclusion:
The bold and modern interior design is a charm for many. You can see commercial offices built in the same way. Many residential vicinities are now being structured with the same ideas. You may like the cottage episode and looks, but in reality, the younger generation is more tilted towards ideas of a black couch which were quite uncommon back then.
It is without a doubt that you can play with the bold looks. Create your stunning designs by inventing unique themes and the ideas we have given you.